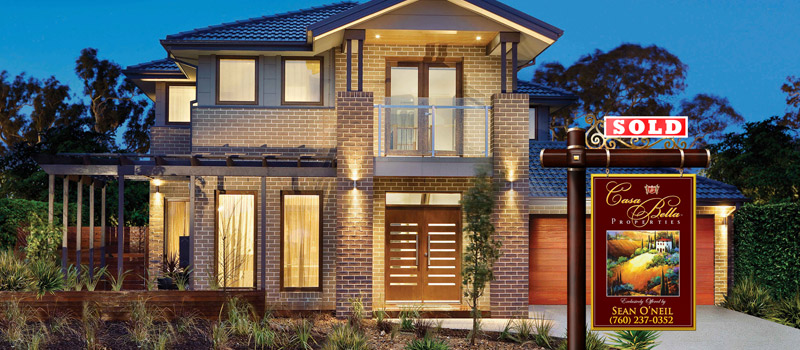 General overview of the selling process
When you decide to sell your home, there are many options that you must first consider in order to make the process of listing, showing, negotiating, and finally closing the deal and moving out progress more smoothly. Ultimately, every seller wants to walk away from selling his or her home with the satisfaction of knowing that they got top dollar for their home, while experiencing few if any hassles and headaches throughout the process.
1: The very first thing that you need to do is to gather together all documents pertaining to your home, including appliance warranties and repair receipts, as well as your current mortgage paperwork and deed to the home. Put all of these papers in a safe place that you will remember and be able to access easily if they are needed quickly.
2: Meet with a Realtor. The advice and perspective that they can give you as professionals in the field may be invaluable as you proceed, and save you headaches down the road. A prepared realtor should bring you a Comparative Market Analysis (CMA) of your property, which will use homes comparable to yours to find a baseline price at which to list your home. You should be able to keep this analysis, or at least jot down the important numbers so that you have them for future negotiating. Please realize that the key word in CMA is comparable: a true CMA must include only homes that are comparable to yours in age, size, style, condition, general proximity, etc….you can't just use your neighbor's home because it's next door to yours. You should not price your house excessively high. If you do that, it would lessen the interest of the buyers. This is the most important cause why home sellers cannot sell their homes profitably. You should always keep in your mind that the home price is determined by the home selling market and not you (the seller).
3: Decide what things needs to be repaired/fixed/updated on your home. Be sure not to outspend yourself, and get a pro's opinion if needed. For example new interior or exterior paint can often increase a home's perceived value by anywhere from 70- 300%. Make those changes you deem necessary prior to putting your home up for sale. Your objective is to amaze homebuyers.
4: Before putting your home on the market, remove all the clutter, clean thoroughly from top to bottom, and do some staging. Pack up the clutter, but leave three items of varying heights on each surface. For example, on an end table you can place a lamp (high), a small plant (medium), and a book (low)…Identify one or two pieces of furniture that can be removed from each room to make the space appear larger…Spotlight the flow of a space by creating a focal point on the furthest wall from the doorway and arranging the other pieces of furniture to make a triangle shape. The focal point may be a bed in a bedroom or a china cabinet in a dining room. This is also the time when you want to make sure you put your valuables (i.e., expensive jewelry, etc., that is easy to pick up and walk away with) away, if you haven't already.
5: Be prepared to show. Be flexible, but don't be afraid to require appointments (rather than drop-ins) if you need to. In order to make sure that you have a serious buyer inquiring, ask them to bring a pre-qualification letter from their bank or lender.
6: When you get an offer, make sure that you get it in writing. State approved contracts are best, so ask the buyer to use one if they are available. Negotiate a fair price (you can use your CMA to justify yourself), and decide the lowest amount you are willing to accept beforehand. However, make sure that you don't lose a good offer over a small amount of money, especially if you need to sell the home. Also, NAR recommends, "Don't refuse to drop the price. If your home has been on the market for more than 30 days without an offer, be prepared to lower your asking price."
7: After both parties have agreed to and signed the contract, be sure to keep communications open with the buyer and anyone else who is important to the sale of the home, including attorneys, lenders, inspectors, appraisers, etc. Failure to provide open communication between all parties could lead to a delayed closing or worse. Be sure to make any repairs or replacements that come up on the home inspection, termite inspection, appraisal, etc. (that you have agreed to in the contract) in a timely manner. Provide any necessary information to the professionals handling the closing of the property as quickly and accurately as you can. The potential homebuyer has the authority to inspect your home – therefore get ready.
8: Closings normally happen 30-45 days following the signing of the sales agreement. You can close with the help of a title company or a lawyer. During closing, all funds are gathered, any existing liabilities are paid off, the deed is handed over and insurance for a free and clear title is issued. The home seller would get the proceeds in one or two working days subsequent to the closing.
9: Pack up, clean out and hand over the keys at closing. After hiring the movers (or doing it yourself), and signing the necessary paperwork, it's time to hand the keys over to the new owner. Give yourself a pat on the back – you did it!
The home selling process can be an easy, worry-free experience if you are prepared for what to expect right from the start. Make sure you understand each step that is involved, and don't be afraid to ask us for advice if you need to along the way.
Questions?
Contact THE O'NEIL TEAM at 760-237-0352 or Sean@OneilRealty.com