What is a short sale
A short sale is a sale of Real Estate in which the proceeds from selling the property will fall short of the balance of debts secured by liens against the property, and the property owner cannot afford to repay the liens' full amounts. Whereby the lien holders agree to release their lien on the real estate and accept less than the amount owed on the debt. Any unpaid balance owed to the creditors is known as a deficiency.
Short sale agreements do not necessarily release borrowers from their obligations to repay any shortfalls on the loans, unless specifically agreed to between the parties. However, in California, legislation was passed to preclude deficiencies after a short sale is approved. The same is true of lenders on first loans and lenders on second loans — once the short sale is approved, no deficiencies are permitted after the short sale. (SB 931, SB 458 – Calif. Code of Civil Procedure §580e).
Credit considerations
A short sale is often used as an alternative to foreclosure because it mitigates additional fees and costs to both the creditor and borrower. Both often result in damage to a borrower's credit scores, and both may lower a person's credit scores to a similar degree. However there is the possibility that a short sale deficiency will not be reported to the credit bureaus if it can be negotiated as part of the short sale.
Since deficiency amounts and late payments can affect a borrower's credit scores, doing away with either or both of them is preferable. The less late payments a borrower has, the more it will help them in a short sale, and always try to negotiate the lender's agreement that they won't report a deficiency balance to the credit bureaus.
Relocation assistance cash
Banks are more commonly offering relocation assistance cash for borrowers who elect to short sale the property rather than let it go to foreclosure. Banks have paid out cash relocation assistance to borrowers, usually in amounts ranging anywhere from $3,000 to $30,000 depending on the value of the property. Banks have also commonly given 'cash for keys' after foreclosure but this is never guaranteed, the amounts are usually less and decrease as time goes on, and the ex homeowner is in a much less advantageous position to negotiate. Control is an important element that a short sale can offer vs. foreclosure.
Other factors to consider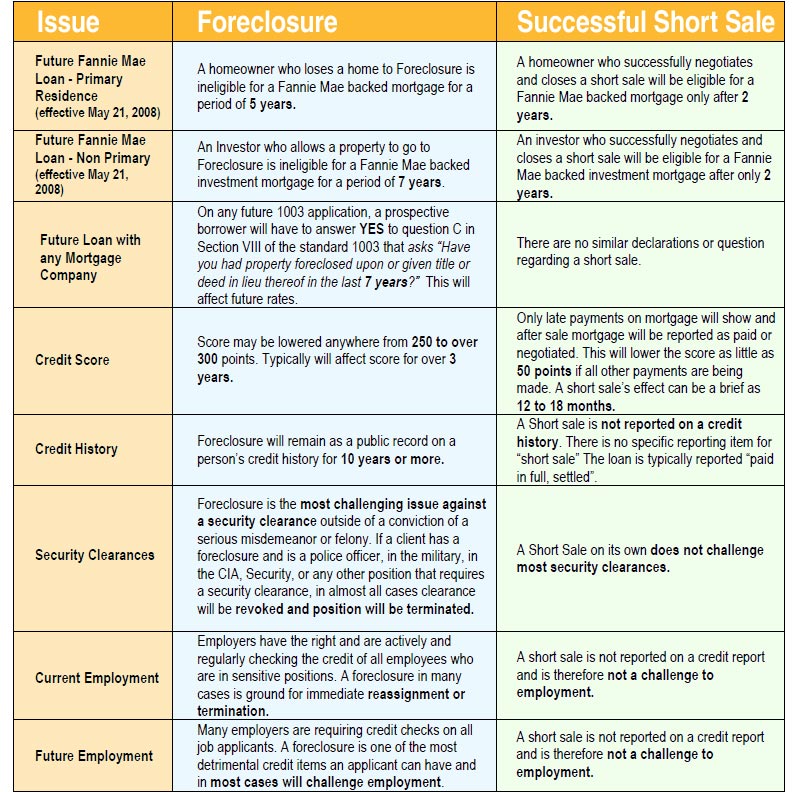 Overview of the short sale process
Most creditors require the borrower to prove they have an economic or financial hardship preventing them from being able to pay the deficiency.
Creditors holding liens against real estate can include primary mortgages, junior lien holders—such as second mortgages, home equity lines of credit (HELOC) lenders, home owners association HOA (special assessment liens)—all of whom will need to approve individual applications for a short sale, should they be asked to take less than what is owed.
Most large creditors have special loss mitigation departments that evaluate borrowers' applications for short sale approval. Often creditors use pre-determined criteria for approving the borrowers and the terms of the sale of the properties. Part of this process typically includes the creditor(s) determining the current market value of the real estate by obtaining an independent evaluation of the property with an appraisal, a broker's price Opinion (BPO), or a broker opinion of value (BOV). One of the most important aspects for the borrower in this process is putting together a proper real estate short-sale package, including hardship letter explaining why a short sale is needed.
Depending on each creditor's policy and the type of loan, creditors may accept applications from borrowers even if the borrower is not in default with their payments. Due to the overwhelming number of defaulting borrowers due to mortgage failures and other causes as part of the 2008-2012 global financial crisis, many creditors have become adept at processing such short sales applications; however, it can still take several months for the process from start to finish, often requiring multiple levels of approval.
Additional parties
Some junior lien holders and others with an interest in the property may object to the amounts other lien holders are receiving. It is possible for any one lien holder to prevent a short sale by refusing to agree to negotiate a reduction in their payoff to release their lien. (Iowa has a procedure, sale free of liens, which allows a foreclosure court to "cram down" a short sale over the objections of the junior creditors.)
If a creditor has mortgage insurance on their loan, the insurer will likely also become a third party to these negotiations, since the insurance policy may be asked to pay out a claim to offset the creditor's loss. The wide array of parties, parameters and processes involved in a short sale can make it a complex and highly specialized form of debt renegotiation. Short sales can have a high risk of failure from inability to obtain agreement from all parties, or they might not be approved in time to prevent a scheduled foreclosure date.
Is a short sale right for you?
Whether or not a short sale is right for you will depend on your unique situation. Every borrower is different and some will have more options than others. You should first try to qualify for a loan modification program to see if you can lower your payments to a manageable level. If that is not possible then a short sale may be your next best option. Contact us any time for more information.
Contact THE O'NEIL TEAM at: 760-237-0352 or Sean@OneilRealty.com